We have started providing CT Catalyst Service since 2010. There are many famous estates and companies/institutions among our clients.
Partial List of Residential Estates/ Apartments (in alphabetical order)
HK Island
80 Robinson Road, Aigburth, Baguio Villa, Beverly Hill, Blessings Garden, Braemar Hill Mansions, Cape Road, Chi Fu Fa Yuen, Convention Plaza Apartments, Grand Promenade, Heng Fa Chuen, Hilary Court, Hong Kong Parkview
Island Crest, Island Place, Island Resort, Island Road, Kennedy Park At Central, Kornhill, Larvotto, No. 1 Star Street, One Wanchai, Pokfulam Gardens, Provident Centre
Redhill Peninsula, Repulse Bay Road, Residence Bel-Air, Scenecliff, Scholastic Garden, Serenade, South Horizons, Taikoo Shing, Tai Tam Road, Tanner Garden, Tavistock, The Avenue, The Belcher's, The Legend, The Leighton Hill, The Merton, The Nova, The Signature, Tregunter, University Heights
Detail List
Kowloon
Amoy Gardens, Aria Kowloon Peak, Aqua Marine, Banyan Garden, Beacon Heights, Caldecott Hill, Cambridge Road, Carmel On The Hill, Celestial Heights, De Novo Tower, Dynasty Heights, Grand Austin, Grand Waterfront,
Harbour Green, Heya Delight, Heya Green, Heya Star, Ho Man Tin Hill Road
Imperial Cullinan, Kadoorie Avenue, King's Park Villa, Laguna City, Laguna Verde, Liberte, Lions Rise,
Macpherson Place, Majestic Park, Manhattan Hill, Mei Foo Sun Chuen, Metro Harbour View, Mount Beacon, Nob Hill, One Beacon Hill, One Mayfair, One Silversea, One West Kowloon, Oxford Road,
Parc Oasis, Parc Palais, Park Metropolitan,
Royal Peninsula, Sceneway Garden, Sky Tower, Sorrento, Stars By The Harbour, Telford Gardens, The Arch, The Austin, The Austine Place, The Coronation, The Cullinan, The Forest Hills, The Harbourside, The Hermitage, The Latitude, The Masterpiece, The Pacifica, The Victoria Towers, The Waterfront, Whampoa Garden
Detail List
New Territories
Aegean Coast, Bellagio, Beneville, Caribbean Coast, Century Gateway, Central Park Towers, Chelsea Heights, City One Shatin, City Point, Coastal Skyline, Corinthia By The Sea, Discovery Bay, Discovery Park, Double Cove, Fairview Park, Festival City, Green Code, Highland Park, Hong Kong Gold Coast, Hong Lok Yuen
Kingswood Villas, Lake Silver, Lohas Park, Mayfair By The Sea, Metro Town, Mont Vert, Mount One,
No. 8 Royal Green, Oceanaire, Ocean View, Palm Springs, Parkland Villas, Park Island, Peak One, Providence Bay
Rambler Crest, Riva, Royal Ascot, Royal Green, Royal Palms, Sea Crest Villa, Seaview Crescent, The Beverly Hills, The Green, The Palazzo, The Parkside, The Reach, The Riverpark, The Visionary, The Wings, Tierra Verde, Twin Peaks, Uptown, Valais, Villa Esplanada, Villa Oceania, Wonderland Villas, Yoho Town, Yuccie Square
Detail List
Partial List of Enterprises/ Institutions (not listed in specific order)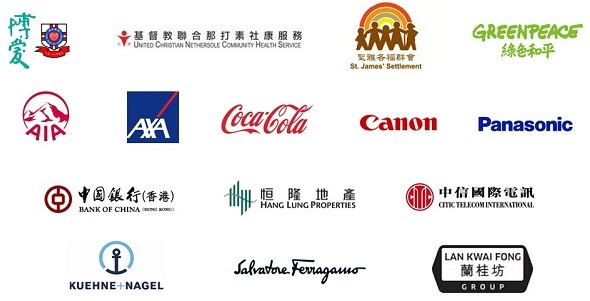 Detail List
Partial List of Commercial Buildings (in alphabetical order)
AIA Hong Kong Tower, AIA Tower, Bank of China Tower, Cheung Kong Center, Convention Plaza Office Tower, Cyberport, Exchange Square, Great Eagle Center, ifc (International Finance Center), Lee Gardens, One Island South, Sun Hung Kai Center, The Center, World Trade Center
AIA Financial Center, Hong Kong Baptist University, Hong Kong Science Park, ICC (International Commerce Center), iSQUARE, Millennium City, The Gateway, The Metropolis The Metropolis Tower
Detail List
Others (not listed in specific order)
Macau: AIA Tower, Helene Garden, Nova City, One Oasis, Rua Da Barca (Ferry Street), Industrial Pou Fung Building
Philippines: DAS MARINAS VILLAGE
Besides, we have provided CT Catalyst Service to a number of private cars and yachts.